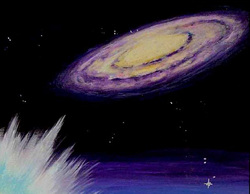 As you go about creating your new reality, it is important to determine what resonates and what does not resonate with you. Discernment is about determining if what you are seeing, hearing and sensing is coming from Love or Fear. You can ask yourself "Is what I am hearing, seeing and sensing coming from a place of joy or deprivation?" Are you being asked with open arms to come whenever you feel you are ready? Or are you being told and you must hurry? Be aware of your gut reaction to what you are experiencing. Do you feel joy or fear? Do you feel like it is for highest and best for all? Or does it feel like the energy is going to harm others somewhere along the line? The important thing to keep in mind is to determine what information resonates with you.

When information resonates with you, your energy is aligned with the co-creative light energy of Source. Follow where the resonating energies take you, in whatever you do. Those resonating energies are supporting your success in the opportunities presented to you by the Universe. The love and light of Source only provides you opportunities for learning when it has done its homework to support you in whatever you place your focused, loving attention. As you discover more and more things that resonate, you become more consciously aware that you are creating your new, awakened reality.

Keep these ideas in mind as you listen to or read various sources of information. If some of what I say resonates with you, go with it and see where it takes you. If you hear or read anything that does not resonate with you, then that is okay too. The point is you are lighting the fire of the power of your mind and heart, by finding your truth.

Understanding what you think and feel about anything you read or hear is important because you are learning discernment and you want to know basic truths.

The proof of your truth is often found in your own direct personal experience. Your own personal experience provides all of the evidence you need to find the valid truths you seek. How do I know what I'm saying is true? I know based on the evidence of my experience in my relationship with the love and light of Source. I am simply sharing what resonates with me and I hope others are inspired and excited to bring forth positive, loving changes into their new reality.

Explore, investigate and observe what resonates with you. Its all about awakening your mind and opening your heart and creating with the loving energy that comes from Source. Everything else is the Universe providing what you have already requested or focused on in the past.

By looking within ourselves and not outside for self understanding and spiritual growth, we are becoming more consciously aware of how we create our own reality. Discernment and finding basic truths in your life opens up doors of opportunity to create the reality you desire. The proof of "Is this true?" is found by the evidence of your own experiences in your personalized, unique relationship with the love and light of Source.